Finding the Right Strap for your Apple Watch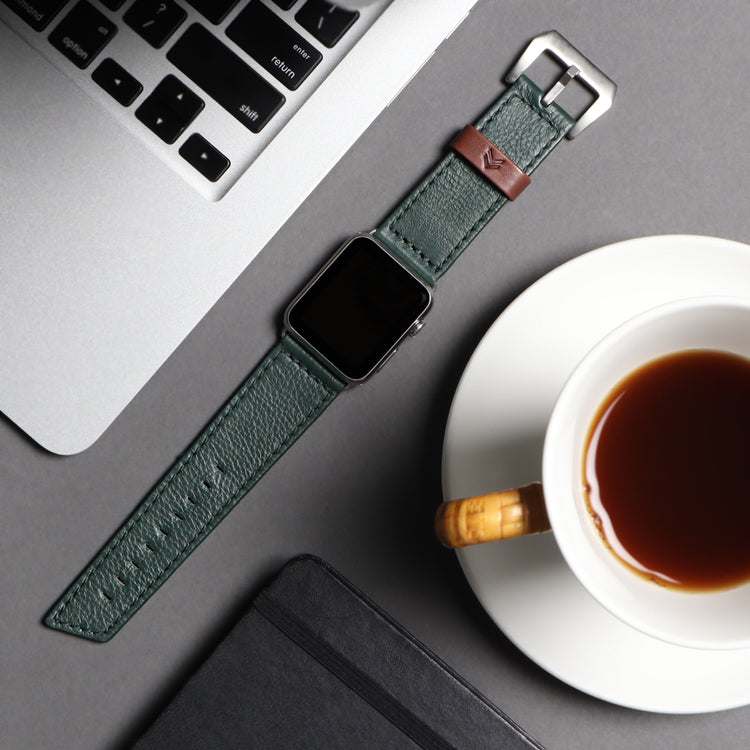 Apple, a brand that is known for making groundbreaking products and has always raised the bar with each product launch. From the first Apple I computer in 1976, Apple has released several innovative new products like the Newton in 1993, iMac in 1998, iPod in 2001, iPhone in 2007, iPad in 2010, Apple Watch in 2015, to name a few. It would be fair to say that when Apple launches a new product, the whole world stops to take notice.
Apple Watch is one such product. It was launched with much fanfare and it hasn't disappointed its fans. It can be used for making and receiving phone calls, fitness tracking, alarms, health monitoring, etc as well. Recently, it even saved the life of a man by detecting the irregular heart rhythm before the valve failure. Another feature of the watch loved by people is that its straps and bands can be easily replaced. You can wear the same Apple Watch with a sporty band during the day and easily make it formal by putting a more formal steel or leather strap in the evening.
Apple Watch Bands are manufactured by various companies in different styles and materials. Which one to buy then?
Don't let this question haunt you! We've got you covered. Here are some points which you should consider while choosing the best strap for your Apple Watch.
Style
While choosing any accessory, the first thing one looks for is its style and looks. A wide variety of Apple Watch Straps are available in the market these days. Each one is unique in its way and has a different styling in terms of material & design, closures, and prints or patterns.
Based on your lifestyle and preferences, you can opt for a loop, a strap, or a metal bracelet or chain. It can have a buckle closure, a magnetic closure, or be elastic.
Also, you can opt for a plain strap in single or dual colour, or go for prints such as floral, graphic, geometric, etc.
You would want to buy the one which reflects your personality and looks good on you. If you are a student, you would like to own something which looks funky, lively and youthful. Being a sports person, a strap which looks bold and gives good motivational vibes could be your pick.
As a professional or corporate person, you would choose something more classy, sober and elegant.And if you are a trendsetter who likes to create their own style statement, you can go for a completely unique watch strap or even design your own.
While selecting the strap for your Apple Watch keep in mind that it is important to go for a style that suits you best!
Material
Looks alone aren't enough to select a watch strap for your Apple Watch. You must choose the right material for your strap according to your lifestyle.
If you're a jet-setter, spending most of your time in meetings or corporate boardrooms, then a classy leather strap is the perfect pick for you. It will look posh and classy in every meeting or formal occasion you wear it to.
If you are a health nut or have an active lifestyle, a silicone or fluoroelastomer watch band will suit you the best. These bands are water-resistant and can easily be used in the gym or while swimming. If budget is not a constraint, you may even consider a steel bracelet.
Nylon bands are purely choice-based. They require a lot of care and can't be worn everywhere. But, they are good if you are looking for a watch strap for rough wear or casual coffee dates.
While surfing for apple watch bands, you will also come across Stainless steel bracelets. These are durable and versatile. The stainless steel bracelets can be used for every occasion as they are available in different styles such as mesh loops, bracelet bands and link straps. Except for the mesh loops (which are lighter in weight), stainless steel bands can prove to be heavy for daily wear. Also, to make them fit your wrist, the only thing that can be done is to get the links removed.
Colour
Opting for a watch strap of the appropriate colour is another factor to look out for. Looking for a unique colour? Watch out! A unique colour may be a good choice, but only for some time, and limited occasions. If you are looking to buy a single watch strap, we suggest you go for timeless colours such as black, brown, tan, and navy. These colours can be worn on every occasion and with any attire.
On the other hand, if you wish to buy multiple watch bands for different occasions, you have a variety of colours to choose from. They are available in Pastel colours like Green, Pink, Red, Mint; Neon colours including Yellow, Pink, Orange, Green; Dual colour or Dual-tone; Pride editions, and many more. They're limited only by your imagination.
Comfort
The most important factor to look out for, while choosing the right Apple Watch Strap is comfort. You should choose a watch strap that is comfortable and fits your wrist well. The best strap is one that becomes supple with use and feels like second skin.
Personalisation
You feel special when you own something specially made for you. Right? Nowadays there are a lot of companies which would make a personalised strap for you. You can select the colour of the strap and the colour of links and buckles to match your watch case or not. You can even choose to get your initials embossed on the strap. Some companies will even print a pattern of your choice on the straps.
Personalisation makes your watch strap distinctive from all others out there. A cherry on the top would be personalising a leather strap of your choice. It looks classy and unique.
Packaging
Although not a feature of the product itself, its packaging could also be important in some situations. Everyone and everything is on social media these days. Unboxing videos are a trend and everyone is excited to see that new thing you've just bought. J.K. Rowling stated that "A good first impression can work wonders". So if the packaging is good, it will surely increase the excitement and engagement of your viewers.
If you're buying the watch strap as a gift for someone, the entire package must be attractive. It adds to the overall experience of opening the present.
Most importantly, along with all the above, don't forget to check the reviews of the apple watch strap you are planning to buy. It's always good to read other customer's experiences with the product.
Here are some of the best and top-selling apple watch straps to look out for:
Civilian Silicone Watch Strap by UAG
---